BHPA ELEMENTARY PILOT COURSE
The Elementary Pilot (EP) is a BHPA paragliding course for complete novices and is the first step in getting qualified to paraglide, (international certification level 2).
COURSE PRICE: 1,190CHF
PRICE WITH ACCOMMODATION: 1,790CHF
PILOT BEGINNER COURSE
By the end of your week, you can expect to be enjoying long solo flights of up to 25 minutes. Boasting over 300 flyable days a year and high mountain launches, learning to fly in Verbier allows beginners  maximum learning time!
WHAT WILL I LEARN?
This is an extremely fun course with lots of practical outdoor aspects and also some theory classes. The first 1 or 2 days are spent on the training hill learning to take-off safely with a small amount of essential theory… all with the aim of getting you flying solo as soon as possible. You will then fairly quickly progress on to short solo flights learning a number of various skills in the air.
From paragliding beginner to competently flying solo.
Our EP paragliding courses run every week of the summer from the end of May through to the end of September. Courses start every Monday. If you have booked accommodation, arrival days are every Sunday with departure the following Saturday.
EP COURSE 
5 days of tuition
Third party insurance
Transport by van but cable car passes are not included
COURSE WITH ACCOMMODATION: 
5 days tuition 
6 nights accommodation
All transport including cable car passes
Third party insurance
Personal accident insurance. You must have personal accident cover in order to start the course.
Equipment rental available at 200CHF for the 5 day course.
Prices are based on shared accommodation but private rooms and apartments are available on request.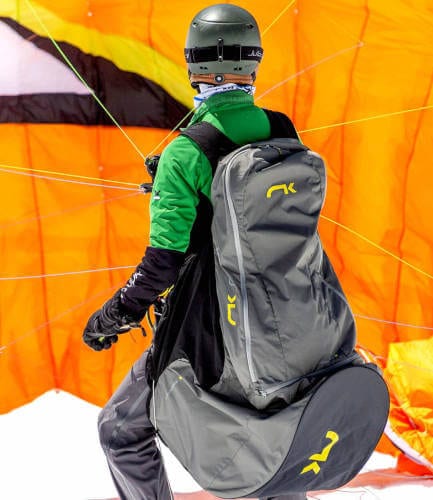 FREE EP OR CP COURSE WITH ACCOMMODATION →
… if you buy your kit pre-course
We are offering a 1 week BHPA EP or CP course for free, including accommodation, worth almost £1,000. To qualify for this exceptional deal all you have to do is buy your gear with us before the start of your course.
From complete beginner to getting a paragliding licence. We can organise that your Club Pilot Licence is accompanied by an International Proficiency card level that it is recognised worldwide.
They are only a 2 minute walk from the Verbier cable car and just a 10 minute walk from one of our landing fields in Montagnier.
– Patricia K, Tripadvisor
See the flight highlights
"I can only thank the team for an excellent and highly professional EP course week – it was an amazing experience – from finally grasping my take off's (Guy and Emmie have the patience of a saint.) and landing to the overall experience of the first flight. The professionalism and encouragement from the team was second to none in making the students feel comfortable and confident – a lot of people could learn from this in general industry…"
"I just finished my first week of paragliding with Verbier Summits. Excellent intro to paragliding. Great teaching, very knowledgeable instructors. Amazing that you get to do some real flying from the very start (after practising take-offs, obviously). Highly recommended."
"I am not the most comfortable when dealing with heights, but as soon as my feet left the ground I didn't have a care in the world. Dealing with Mike and Stu was an absolute pleasure throughout, and the team were professional, friendly and are passionate about ensuring you are comfortable and having a great time. The views of Verbier were incredible and it provides an incredible and unique perspective of the world you would otherwise never experience."
"Having come from a climbing background, I've always wanted to learn to Paraglide but never had the opportunity to learn until now. When I explained my motivations for learning to fly (Hike and fly, lightweight decent) they couldn't have been more supportive and guided me through every step of the way, giving me advice on equipment, skills to develop and above all passion to get out and fly again and again."
THE OTHER FLIGHTS THAT YOU MIGHT LIKE
This is a really exciting course where you will gain a lot of airtime and start to really become confident in the air. This course has a jam-packed syllabus where you will be learning new and important exercises.
​
Our paragliding thermal course is designed to help pilots not only improve thermal techniques but also to generally progress and build confidence. This is also the best course for completing your BHPA Pilot rating tasks.
From complete beginner to getting a paragliding licence. We can organise that your Club Pilot Licence is accompanied by an International Proficiency card level that it is recognised worldwide. 

TANDEM BOOKING OFFICES: Ski Service ski shop,  Les Ruinettes, At the top of the Médran cable car.   ACCOMMODATION ADDRESS FOR COURSES & HOLIDAYS:  La Ruinette, Rue de Verbier, 1, 1934 Le Châble, Switzerland
YOUR SAFETY MATTER
Verbier-Summits is certified & approved BHPA school located in Switzerland. Switzerland has the highest standard of teaching regulations in the World regulated by the Federal Civil Aviation Authorities, OFAC. Verbier-Summits is the only BHPA school in the world to also be regulated by OFAC. The Chief Flying Instructor at Verbier-Summits is trained and qualified to teach by:
OUR SPONSORS AND PARTNERS: