Planning a ski trip can be a daunting task, especially when it comes to working out how you are going to get to the resort with all your luggage. There are a lot of options to choose from and working out which one is the best one for your trip can be a headache. In this brief guide we are going to take you through your main transport options, showing you how long they will take, expected costs and things to keep in mind. We will cover travelling by plane, train, coach and car and ensure you are fully up to speed.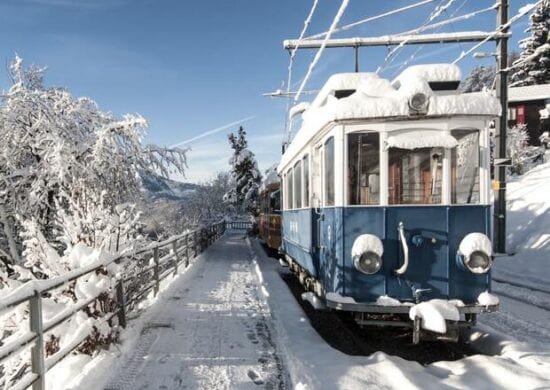 Airport Parking
If like most travellers you plan to fly to Verbier, chances are that you will need to park your car at the airport. Travelling to the airport by car is one of the most convenient options, especially if you are travelling with your ski equipment. The problem is, airport car parking can be expensive, especially during the peak seasons and always if you book on the day.
By booking in advance and by using a comparison website, you can save yourself time, money and stress. A good example for UK travellers is Parkhero. This website uses an intuitive comparison tool to help you find the lowest prices on airport parking at your departure airport in the UK. If you are looking for great value Heathrow parking charges for instance, simply choose Heathrow Airport in the dropdown menu on the homepage and enter your travel dates. In seconds the website shows you all the available options ranked from the cheapest to the most expensive, making it easy to find the best deal. You don't need to create an account with this website to make your booking and you won't be charged a booking fee. If you are looking for a similar website for your country, just enter 'compare … airport parking' into a search engine.
Choosing the Right Airport
There are three main airports near Verbier – Geneva, Zurich and Sion. You would think that choosing the best one is simply a matter of working out which one is closest to Verbier, but this is not the case. Although Sion is only 54 km from Verbier, compared to the 160 km between Geneva and Verbier, Geneva is a major international airport offering a range of flights from around Europe and the rest of the world. It is likely to be much easier to find a reasonably priced flight to Geneva from your nearest home airport, than Sion. That said, it depends where you live!
Below we have compiled the key information you need about each airport.
Geneva Airport
Geneva is a convenient option for most of Europe with most flights taking 2 hours or less. It is served by a large variety of international airlines from budget to national carriers. This includes British Airways, Easyjet, Air France, Lufthansa, Swiss, Iberia and more.
The airport is located just a 2-hour journey from Verbier by private transfer, although this can take longer during bad weather and during busy periods. The cost of a transfer will vary depending on how far in advance you book, the time of year and how many are in your party.
If you would prefer a cheaper option, you can take the Verbier Express train from the airport to Le Châble at weekends. This is the closest station to the resort which is connected by a 10-minute lift. If you are travelling during the week, you can hop on a train to Martigny and from there take the Saint-Bernard Express to Le Châble. Trains cost around CHF 20 and there are discounts with some Verbier ski passes.
Sion Airport
This small airport located in the heart of the Alps is a former military base just a 50 minute drive from Verbier. You will not find many direct flights to this airport, but if there is one near you, it is the most convenient flight option.
To get from Sion to Verbier you can take a private airport transfer, a taxi or take the train from Sion town centre to Le Châble. By road the resort is around 50 minutes away and by train around 90 minutes, as you need to change at Martigny.
Zurich Airport
Zurich Airport is located 280 km away from Verbier on the other side of the country. If you want to visit other destinations as well as Verbier, it is a good option. However, if you are just headed to Verbier, transferring to and from Zurich will eat into your time on the slopes!
This major international airport is between a 3 and 4 hour drive from Verbier and around a 5 hour journey by train.
Train Travel Options
If you are concerned about your carbon footprint or simply enjoy a more relaxed form of travel, then taking the train to Verbier could be your ideal option. Verbier is well-connected to the wider European rail network with the highly efficient Swiss SBB/CFF national rail provider transporting you from around the country to the nearest station at Le Châble.
From London you can reach Verbier in around 10 hours via Paris, Lyon and Geneva and from Paris in around 4 hours. From Geneva you have the option of the Verbier Express train at weekends to Le Châble or a train to Martigny and then the Saint-Bernard Express to Le Châble during the week. From Le Châble you can hop on a regular lift to Verbier which takes just 10 minutes.
For the best prices make sure to book in advance and consider travelling outside of the peak holiday periods. Keep in mind that it is considerably cheaper to transport luggage by train than by plane, with 2 large bags plus ski equipment usually included in your ticket.
Travelling by Coach
For a budget travel option look no further than long-distance coach travel. Big companies, such as Flixbus, offer large networks across Europe, making it easy to get to Geneva or Lausanne from most big European cities.
From Geneva or Lausanne you can simply hop on a train for the rest of the journey to Le Châble station and Verbier.
Although cheap, coach travel can take a long time, so make sure you travelled prepared with plenty to keep you entertained, fed and comfortable!
Driving to Verbier
The final option for travelling to Verbier is to drive. The resort is well-connected via Swiss motorways and taking your own vehicle offers you the flexibility of visiting other resorts and destinations along the way.
If you are driving through France, keep in mind that you will need to pay for the tolls which can come to around €60, if you are travelling from the north. You will also need a 'vignette' to drive in Switzerland, which you can purchase at the border for €40.
Although the winding road up to Verbier is regularly cleared of snow, it can be dangerous at times and you will need to fit your wheels with chains.
So there you have your 4 main ways to get to Verbier, make sure to start planning your trip in advance and make the most of the best prices available.